Red Dead Redemption Friday 13th Event & upcoming Rockstar events
Friday January 13, 9pm – 12am UK time,  Red Dead Redemption & Undead Nightmare PSN Official Social Club Multiplayer Event  Triple XP  & Win Limited-Edition Controllers! So How about a little Undead Nightmare for Friday the 13th?
Get Triple XP all weekend in Red Dead Redemption: Game of the Year Edition and enter for your chance to win two custom PlayStation 3 controllers in Friday 13th's  Social Club multiplayer event on PSN.
It all begins Friday January 13th with the multiplayer event from 9pm – 12am UK time.. Any version of Red Dead or Undead Nightmare  is compatible with Game of the Year Edition multiplayer – so even if you don't have the Game of the Year Edition release, you can join in to play in any of the applicable modes on PSN.  Triple XP will be active for both PSN and Xbox LIVE all weekend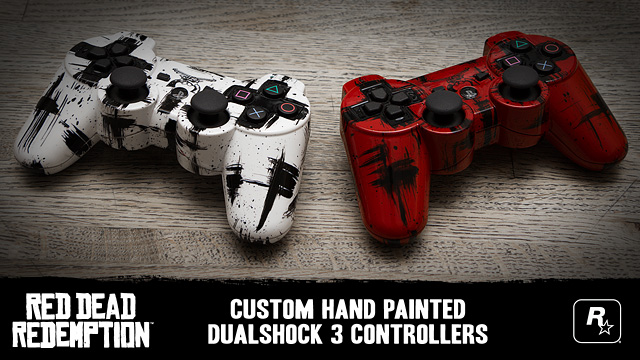 If you want to know where, how and when to enter the sweepstakes, it's simple. During the event on January 13th, head to the multiplayer events page between 9pm and 12am UK time. Under 'Sweepstakes Entry' at the bottom of that page, you can enter your details for a chance to win the two specially customised Red Dead Redemption PlayStation 3 controllers as pictured above. Once you enter, you'll also have the chance to win one of 20 runner-up Rockstar prize packs that includes an official t-shirt, deck of Red Dead playing cards and assorted stickers.
OFFICIAL ROCKSTAR PSN IDs
RedDeadDev3
RedDeadDev4
RedDeadDev5
RedDeadDev6
HOW TO FIND ROCKSTAR
Start multiplayer from the main menu, choosing 'Normal' from the list of difficulties. This will place you into a Free Roam lobby. It's best to invite at least one friend and form a posse, but this is not required. Then enter the game mode being discussed by "SocialClub" in the 
chat
.
HOW DOES FREE ROAM WORK?
Free Roam is the hub of your online experience. Supporting up to 16 players, Free Roam allows you to explore with your friends and enemies, take out the gangs of outlaws or launch into more structured gameplay using the markers placed around the world. Rockstar will be forming posses and then heading into several game modes during the event.
FORMING A POSSE
To start the game, invite your friends, form a posse and find Rockstar, follow these steps:
From the main menu, press 'Start' and then enter 'Online Multiplayer' by pressing the 'Square' button, and choose 'Normal'.
Once in a Free Roam lobby, press the 'Select' button to open the in-game multiplayer menu.
Press the 'R1′ button and then the 'Triangle' button to 'Show Friends'. Invite at least one friend into your posse using the 'X' button.
Once your friends are in the game, press the 'Triangle' button again to return to the 'Players' menu and select them with the 'X' button to 'Propose New Posse' or 'Send Posse Invite'.
Once you and your friends are ready to go, start up the game mode that's currently playing. This will be announced  in the chat.

Future events include some Grand Theft Auto IV & Episodes from Liberty City for PC and Xbox LIVE, and a Red Dead event for Xbox LIVE.
CALENDAR OF MULTIPLAYER EVENTS
Friday, January 13 
Red Dead Redemption: Game of the Year Edition w/ Triple XP
For PlayStation 3 on PSN
The first multiplayer event of 2012, battling it out on PSN with you and your whole posse across modes from the entire Red Dead Redemption online multiplayer experience – including Undead Nightmare's Undead Overrun. (Note you do not need the Game of the Year Edition specifically to play in this or any of the Red Dead events. Any version will do as long as relevant modes are being played.)
Thursday, January 26 (10pm-1am UK time)
Grand Theft Auto IV: Complete Edition
For Xbox 360 on XBL
Since the most recent GTA console event was held on PSN, the Xbox LIVE crowd gets some Cops n' Crooks, GTA Race, Witness Protection and just about every other multiplayer mode from the original Grand Theft Auto IV as well as the Episodes, The Lost and Damned and The Ballad of Gay Tony.
Friday, February 10 (9pm-12am  UK time)
Red Dead Redemption: Game of the Year Edition w/ Triple XP
For Xbox 360 on Xbox LIVE
Red Dead on Xbox LIVE with everything from Grand Prix Horse Racing to Gold Rush to Stronghold toUndead Overrun and plenty more. As with most of the events, There will be 20 runner-up prizes and one Grand Prize. 
Friday, February 24 (9pm-12am UK time)
Grand Theft Auto IV & Episodes from Liberty City
For PC on Games for Windows LIVE
 32-player mayhem crashing things up in Race, going wild in Free Mode, and some classic Deathmatch - will be just part of this one.
These official multiplayer events are your chance to:
Play online multiplayer with Rockstar Games, including people from some of the development teams who helped create the games themselves
Enter Social Club member-exclusive event sweepstakes at the multiplayer events page during the event, including prize giveaways you won't see anywhere else like custom controllers, consoles and more
Watch the live video stream broadcast of the online play at the official multiplayer events page
Join the live event chat to discuss the stream and challenge other players as the action unfolds
Gain Triple XP in Red Dead Redemption
HOW TO PLAY WITH ROCKSTAR
Look for Gamertags, IDs and details on how to findthem in each event to be posted a day or two before each of the dates listed below. Keep in mind that the easiest way to get in on a game with Rockstar during these playsessions is to send a friend request the night before and then request in the chat or the corresponding Newswire post to be invited.